CRA/HMDA/CD/FL
A GeoDataVision expert will work with you and your personnel in the areas of HMDA/CRA/Fair Lending/Community Development. These services can be provided via the web or onsite, in person. In addition to hands on consulting and training, we also provide webinars (live and recorded) that are extremely useful in training your staff.
GeoDataVision Webinars are recognized as some of the finest presentations available, for information to help banks meet their "compliance and performance" responsibilities. The experts that present the materials are some of the finest in the country. The topics covered include CRA, Fair Lending, HMDA, Exam Prep, and more. Available live and recorded. .
---
As an offshoot of the many products and services we provide banks to help them meet their regulatory requirements, we have created some of the most useful and effective training and consulting webinars available anywhere. These generally are 90-minute recordings of "Live" sessions that cover a host of important subjects
We periodically update these packages by conducting "Live" webinars with new and important information. These are announced via our website and by email blasts to our database of prospects and customers. Please send us your contact information if you want to be on the mailing list.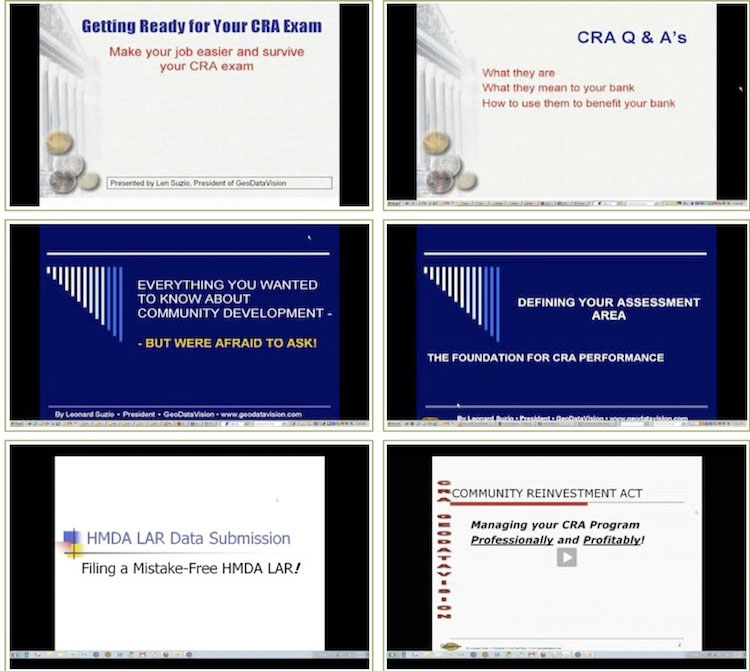 ---